At 109 years of age, Castellorizian woman, Eleni Confos, has lived through two world wars, the Great Depression, the Spanish Flu and now the coronavirus pandemic.
Over the years, Eleni has also smashed a number of other incredible records. She's not only the oldest Greek in Australia, but she is also the tenth oldest person in Australia overall and the oldest known Castellorizian.
The best thing about all this is that Eleni remains as humble, happy and loving as ever. So to mark the occasion of this amazing lady's birthday on Saturday, January 30, The Greek Herald spoke to her daughter, Rose Adgemis, about Eleni's life and what it was like growing up.
"Mum is the matriarch of the family. She's extremely intelligent and good at anything she does," Rose tells The Greek Herald.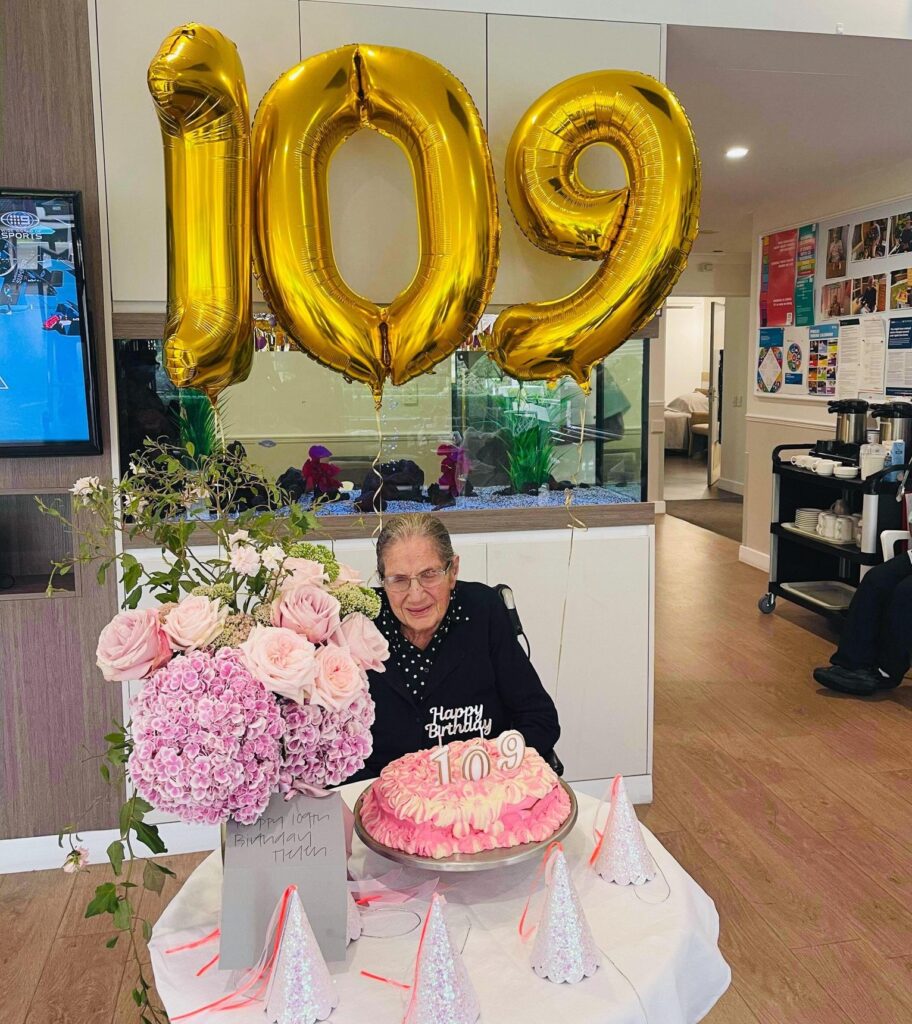 Eleni was born in 1912 on the Greek island of Castellorizo, to her parents Tsiko and Garifalya Galettis. She was one of eight siblings, all of whom have passed away.
In 1931, Eleni married George Confos in Castellorizo before they moved to Australia, where George already worked at a fish cafe with his brothers on William Street, Sydney. Eleni had her first-born son shortly after in 1932, but Rose says Eleni still struggled with her life in Australia at the beginning.
"When she arrived, she was quite depressed at the way Sydney was because it was during the Great Depression," Rose says.
"For seven years she wouldn't even open her glory box because she wanted to go back. But then she started to bring her siblings out and she knew that Australia was going to be her home and she hasn't regretted it at all."
Her life however, hasn't been without tragedy or hardship. Eleni eventually had four children. Her son sadly died young at the age of 42, while two of her granddaughters both passed away at the age of nine.
Add to all this the fact that she is currently living through a dangerous coronavirus pandemic as well. But Rose stresses that the current restrictions don't even phase Eleni, who is currently in a nursing home.
"Eleni remembers the Spanish Flu because she was about seven years old when her eldest brother had it and he survived," Rose explains.
"And that's why now, during the lockdown, when I had to explain to her why I couldn't visit her every day… she could understand."
It's definitely clear that Eleni is one tough cookie. Because of this, we just couldn't resist asking Rose what her mum's secret to longevity is.
"I can honestly say that she fasts alot. In our Greek Orthodox religion, there's around 100 days a year of fasting and mum would do all of them. And her diet was just a really good Greek Mediterranean diet," Rose says.
"But to top that off, she would drink about five or six cups of tea a day and she would put grounded cloves in them. That's her secret to success. Everyone in the family put cloves in their tea now as well."
An inspirational woman who has clearly left a lasting legacy on all those around her.