It is the small victories that will define the battle against the coronavirus, said the Health Ministry's coronavirus spokesman and infectious diseases professor Sotiris Tsiodras on Friday evening, during the daily televised update on the pandemic's course in Greece.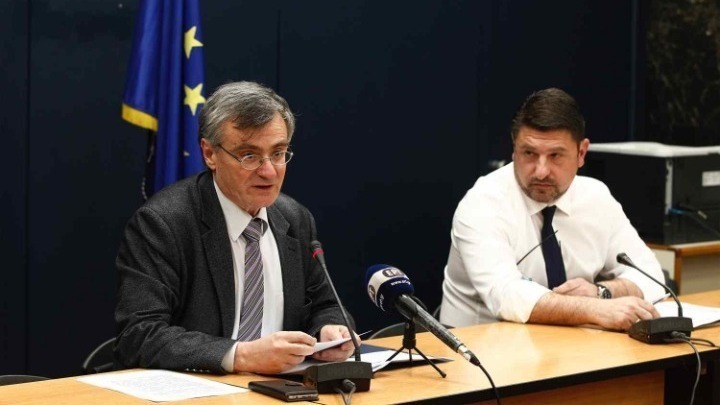 Elaborating, he said that four patients who were in intensive care went off mechanical support on Friday. They are aged between 52 and 67, and two had serious underlying health issues before contracting the virus. He paid tribute to the doctors and nursing staff for the results, and added that the young infected mother who gave birth to a healthy infant was discharged from hospital.
Drugs and tests
Tsiodras referred to some of the drugs used in Greek hospitals, like remdesivir, an anti-viral drug which has been reported as promising and is used in some patients in Greece, and also chloroquine, which he said is abundant in the country. He mentioned the possibility of using medicines that protect the heart, as the virus appears to affect it in a way that is still being investigated.
The professor made a special reference to the pneumococcal vaccine, which is recommended for anyone older than 65 and for vulnerable groups, while he noted that patients who meet the symptomatology criteria could still receive it.
He said that commercial antibodies tests that give rapid results are not reliable in terms of Sars-CoV-19 (although their use is still being investigated), and stressed that the only reliable test is the molecular one, which is being currently being used.
Friday numbers
Tsiodras announced 74 new confirmed cases of Covid-19 in Greece in the last 24 hours and 2 new deaths, which brings the country's total to 966 confirmed infections and 28 deaths.
Of those who died, 23 were men and 5 were women, with an average age of 73 years. Most of these patients had underlying health issues, he added.
Some 66 patients are treated at Intensive Care Units, of them 65 patients are intubated.
So far 52 Covid-19 patients have been discharged from hospitals.
So far a total of 13,477 Covid-19 diagnostic tests have been carried out in Greece, said Tsiodras.
Hardalias
Civil Protection Deputy Minister for Crisis Management Nikos Hardalias stressed that the battle against the coronavirus pandemic is continuing and remains an extremely difficult one.
Addressing the press after Tsiodras, Hardalias said that the coming weeks are crucial, and that there is no room for " letting our guard down" either at personal or collective level.
He emphasized repeatedly that the only way to win this battle is to stay at home.
In his brief presentation, he also referred to the 11 tons of health care products donated by the United Arab Emirates, and that Prime Minister Kyriakos Mitsotakis had personally thanked Sheikh Khalifa of Dubai for the donation. The material included protective gear for doctors and nursing staff.
He also said that authorities had been conducting checks on a total of 6,687 individuals who have been asked to self-quarantine - either after being confirmed as Covid-19 carriers or having returned recently from abroad - to ensure they are keeping their obligation to stay at home. Any infraction of this carries a 5,000-euro fine and prosecution.
Research funding
Two laboratories at the National and Capodistrian University of Athens will help in the diagnosis and research of Covid-19, following funding by the National Public Health Organization (EODY) on Friday.
The two labs are in the Microbiology Department (professor Athanassios Tsakris, director) and the Epidemiology, Hygiene and Medical Statistics Laborator (professor Gikas Magiorkinis), at the Athens Medical School.
Each will be funded with 335,000 euros to help in diagnosis, preventative measures against secondary infection, and the understanding of Covid-19's clinical and epidemiological nature.