School pupils across the globe have been asked to stay at home while their governments battle with the coronavirus pandemic.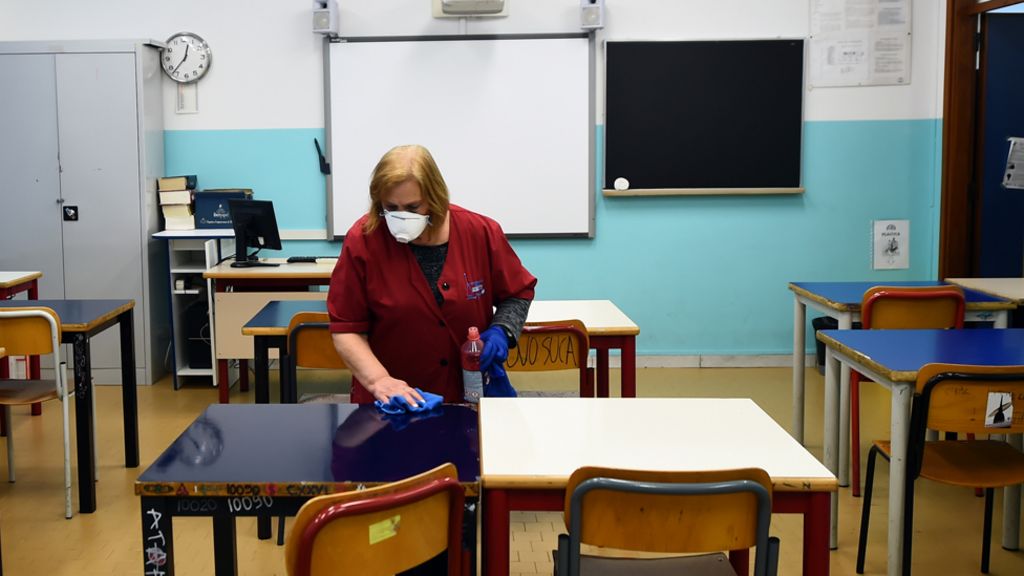 For some, this might come as an extended vacation; for others, their qualifications and future plans are at stake - or worse, their next meal.
dpa looks at the new reality for hundreds of millions of children and teenagers:
DIGITAL CLASSROOMS
For Sofia Boldrini, a 13-year-old in her final year of middle school in Genoa, north-west Italy, it took a while for her home schooling timetable to take shape.
Schools have been closed since February 24. For the first three weeks there were no online classes, just teachers setting homework remotely. Then her Italian and maths teachers started uploading video lessons on YouTube. For one week now, Sofia and her fellow students have started using a classroom software for proper online lessons.
"Today they sent us the timetable: We have classes everyday from 9 am to 12 pm, with 45-minute modules," Sofia told dpa.
Sofia and her classmates are a bit behind in the curriculum, "but so is everybody else, so nobody is that worried about it," she said. In geography, for example, they are skipping a few countries to speed things up.
INDEPENDENT STUDY
Getting up when you want, taking breaks when you want - for teenagers who can study without their parents' help, the extended break from classes could offer certain benefits.
For Arvid Slesazeck, an 18-year-old preparing for his school leaver's exams in the town of Grossroehrsdorf in eastern Germany, the situation is also helping him to prepare for his next chapter.
"Working on the material independently is also relatively helpful for studying [later in life] because that is how it's done," he said. He is set to start an integrated degree programme with the Deutsche Bahn railway operator after the summer.
"In that respect, you could see it as preparation for becoming a student," he said, reflecting on his current situation. "But this still comes with limitations because you simply understand certain things better when the teacher explains it."
EXAMS UNDER THREAT
The ministers responsible for education in Germany's 16 federal states promised students like Arvid last week that the Abitur high school leaver's exams would go ahead as planned, stressing that "pupils will not be at a disadvantage due to the current extraordinary circumstances."
High schoolers in others countries might not have that same opportunity.
In Italy, where schools are unlikely to reopen before the summer break, Education Minister Lucia Azzolina is considering an emergency decree whereby there will be no student failures at the end of the year, and final exams will be made much easier, with no written exams and just a longer oral one instead, according to La Repubblica newspaper.
Egypt has scrapped its final exams from the third to the ninth grades due to crisis, and education authorities have said final exams to be taken by high-school students will cover only syllabuses taught until mid-March.
In Serbia, it is unclear whether exams will go ahead - or whether history will repeat itself. In March 1999, all teaching was suspended when NATO began bombing Serbia over Kosovo. That school year was lost to the war - in the end, everyone passed with their grades based on the previous year.
GOING HUNGRY
Perhaps a more pressing issue involves the over 368 million children who are missing out on school meals due to the crisis.
That figure is an estimate from the United Nations' World Food Programme (WFP), which provides school meals in 50 of the 191 countries that have since closed schools in a bid to slow the spread of coronavirus, according to the organization's own digital map.
"This map gives us a snapshot of the terrible toll that this virus is having on the well-being of millions of school children and their families across the globe," said Carmen Burbano, director of WFP's School Meals Programme.
New York City, which has the largest public school system by far in the United States, with nearly 1,900 schools serving more than a million students, has put measures in place to keep vulnerable children fed.
The city's education department is still giving out three free meals a day as many students depend on them, with some 750,000 living below the poverty line and an estimated 114,000 living in shelters and unstable housing. Students who have been sent home are picking up the meals from hundreds of distribution sites across the city.
TECH PROBLEMS
New York City is also lending 300,000 internet-enabled iPads to students, and many schools are distributing laptops and tablets to ensure that no child is left without access to remote learning.
But there are concerns that gaps remain, and not just in New York.
An estimated 1.5 million schools are shut across India as part of the country's 21-day lockdown.
While children studying in more affluent schools are joining online classrooms, a vast majority of children who come from less privileged backgrounds cannot do so because they lack access to a fast internet connection, or do not have access to a computer or even a smartphone. They may not even have a reliable electricity connection.