Health Ministry spokesman on coronavirus Sotiris Tsiodras on Thursday evening gave an official briefing on the latest data concerning the spread of the coronavirus in Greece, 117 infections nationwide, including the 66-year-old man who died at Patras hospital on Thursday, the country's first death from the new virus.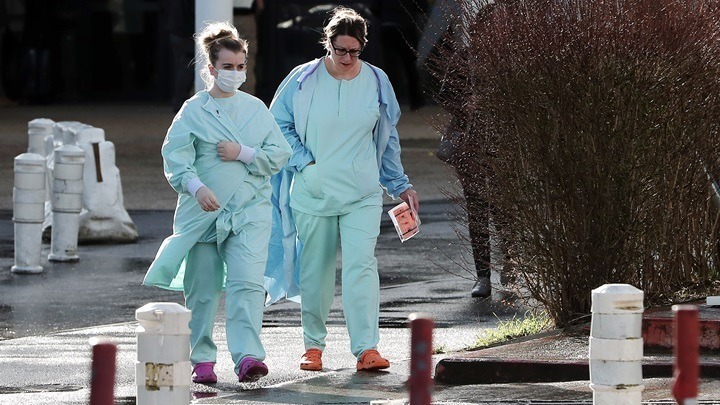 He said most cases are located in the Attica region, and elaborated that 82 patients were infected abroad, 25 were infected from coming into contact with the other 82, while the source of infection cannot be traced for 25 patients.
Tsiodras also said that 15 possible cases are being investigated, and reported that 3 patients are now hospitalized in ICUs, while another 2 patients were discharged from the AHEPA coronavirus reference hospital in Thessaloniki on Thursday. The AHEPA discharges are a mother and child, the first diagnosed cases in Greece.
The infectious diseases professor explained that the government stepped up preventive measures because the key to limiting the spread of the virus is to restrict gatherings of many people in one area. "We are trying to delay the occurrence of en-masse infections, especially among people who are older," he noted.
Tsiodras said that "if you are healthy and have mild symptoms, you do not need to get tested for the infection," but the reverse is right for people with chronic illnesses and immunosuppression issues who have a fever and are coughing, who should contact hospitals designated for coronavirus tests.
Finally, Tsiodras said that children's playing stations, nightclubs, law courts and gyms will shut down for two weeks, while an announcement by the Culture Ministry would contain directions about archaeological museums and sites.
Ministry of Culture
Theaters and cultural event facilities will shut down for 14 days as part of measures to contain the coronavirus epidemic, the Ministry of Culture said on Thursday, citing decisions by the National Public Health Organization (EODY) and the Ministry of Health.
Museums will be open but will place restrictions on the number of visitors at each time.
"Museum staff must ensure that in every exhibition room - depending on its size - there are no more than 20-30 people at a time," an announcement by the Culture Ministry said. "The same holds for large number of visitors waiting at ticket booths."
It added that "archaeological sites will operate normally, unless there is a different directive. The archaeological sites of Achaia, Ilia and Zakynthos in particular, must follow earlier directives by EODY."
EOPYY online
The National Health Service Organization (EOPYY) on Thursday suspended all current deadlines for the submission of documents for social insurance claims and reimbursement, and urged all insured persons to temporarily refrain from visiting its main and branch offices.
EOPYY stressed that those insured will be reimbursed as per usual, as any current deadlines are now voided.
Concerning requests for authorization of reimbursement for hospital expenses outside of Greece already applied or paid for, supporting documentation may be submitted electronically at https://eopyy.gov.gr/sites/ALL