Developing bilateral relations, expanding economic cooperation, and discussing developments in the Balkans were at the centre of today's meeting held Belgrade between Greek Foreign Minister Nikos Dendias with his Serbian counterpart of Nikola Selaković.
Dendias is paying an official visit to Serbia, accompanied by the Minister of Rural Development and Food Spilios Libanos and Deputy Foreign Minister Kostas Frangogiannis.
During the meeting of the two Foreign Ministers, the need for closer cooperation in all areas and implementing the objectives of the Joint Declaration signed in December 2019 during the third Supreme Council of Greece-Serbia Cooperation.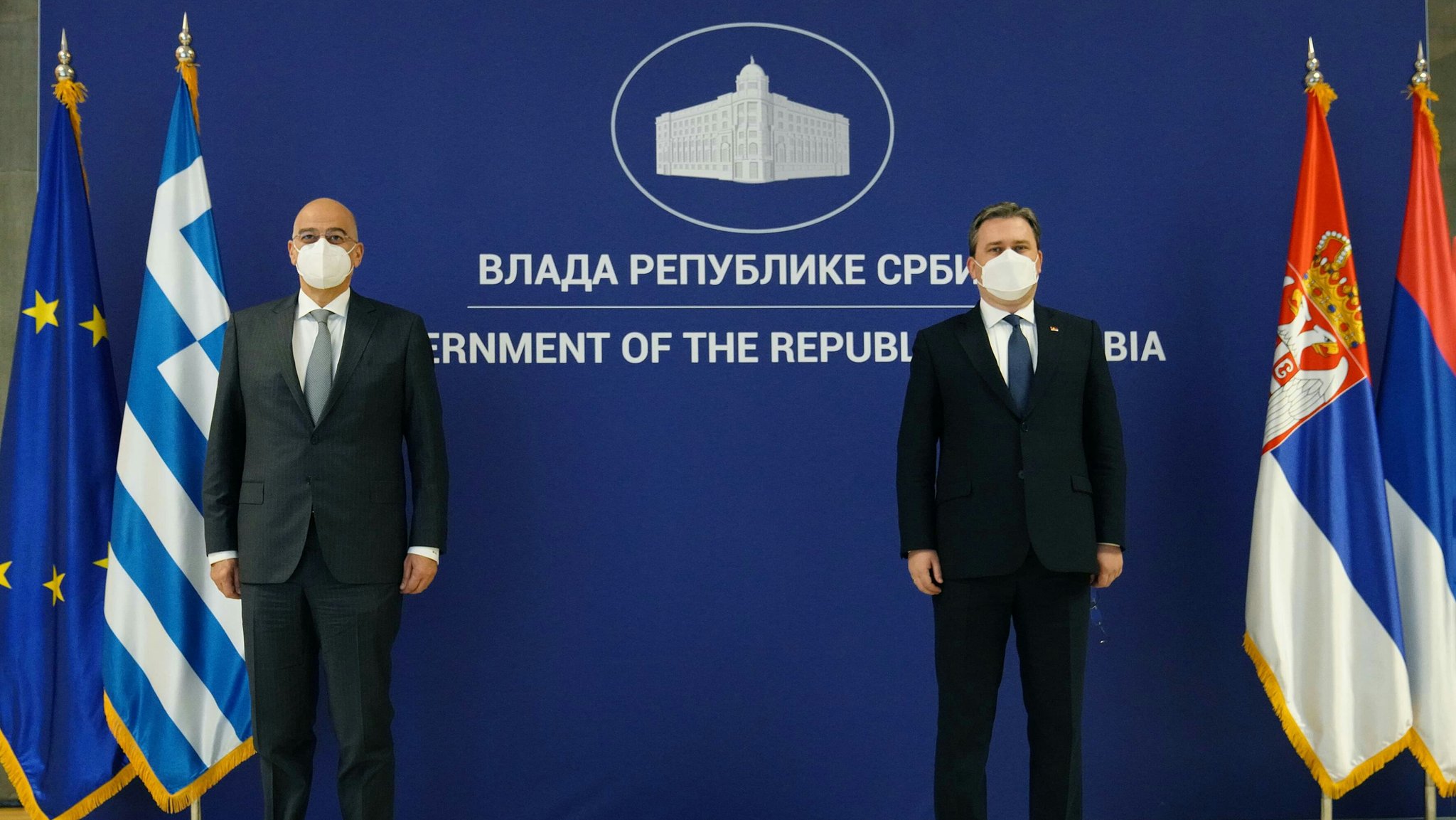 In the joint press conference, Dendias reiterated Greece's full support for the European perspective of Serbia, as well as all the countries in the Western Balkans.
He stated that Greece seeks the cooperation and development of all countries in the region.
The Foreign Minister stressed that channels of communication and cooperation should be built in the Balkans and that intolerance and religious fanaticism should not be cultivated.
Dendias referred to the strong presence of Turkey in the region, which, as he said, is trying to increase its influence by using the economy and religion.
He said he intends to visit Turkey, but only if Ankara's delinquency and provocative behaviour has stop.
Referring to regional cooperation, Dendias stressed that it should include all countries and agreed with his Serbian counterpart to organise a tripartite meeting in Corfu between Greece, Serbia and North Macedonia.
Dendias conveyed to the Serbian government the congratulations of the Greek Prime Minister Kyriakos Mitsotakis for the progress of the vaccination program implemented by Serbia.
He invited all Serbs to visit Greece this summer to spend their holidays.
On the issue of Kosovo, the Greek Foreign Minister expressed his dissatisfaction that there is no progress towards resolving the issue and stated the intention of Greece, if Serbia asks, to mediate for the resumption of dialogue.
Serbian Foreign Minister Nikola Selaković, for his part, thanked the Greek government for its support to Serbia's European course.
The Foreign Minister stressed that cooperation between the two countries must be strengthened in all areas.
He referred to the importance that Serbia attaches to road and rail connections with the ports of Thessaloniki and Piraeus.
Dendias made special reference to the energy sector, announcing that Serbia would supply a part of its gas needs from Alexandroupolis when the connection with Bulgaria is completed.
On the occasion of the 200th anniversary of the Greek Revolution, Selaković said that a street in Belgrade would be named after the first governor of Greece, Ioannis Kapodistrias.
Dendias thanked him for the renaming, pointing out the fact that Kapodistrias came from Corfu, his home island.