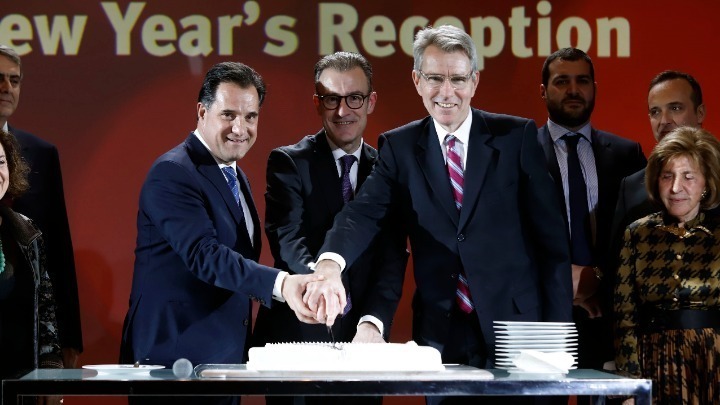 "The stage is set for a fantastically productive 2020, and many exciting opportunities lie ahead," US Ambassador to Greece Geoffrey Pyatt said late on Thursday in his address at the American Hellenic Chamber of Commerce, expressing confidence that there will be significant American investment in Greece during the coming year.

Development and Investment Minister Adonis Georgiadis underlined the new momentum in US investments in Greece during his addess on behalf of Prime Minister Kyriakos Mitsotakis.
Georgiadis focused on meetings with very large US companies that the prime minister had in Washington, the result of which was that one of the largest US renewable energy companies will open an office in Athens in two weeks and plans to invest half a billion dollars in Greece by 2020.
He also referred to the vote by the US Congress in late 2019 for Greece's inclusion in the countries funded by the DFC. "This means that US companies that want to invest in Greece can secure "equity" and guarantees in order to have lower interest rates on the financing of their investments in our country," he said.
The minister highlighted the support of the US government to the LNG Operational Programme in Alexandroupolis, while regarding ONEX's interest in Elefsis shipyards he noted that "with the ambassador's contribution, we will also start works in Elefsis shipyards in the coming weeks."
Georgiadis stressed the personal contribution of the US Ambassador to the successful completion of all major US investments in Greece.
At the same time, he congratulated the American Hellenic Chamber of Commerce on the work and the messages it is sending, announcing that "in 2020 we want to do many things together".
On his part, Pyatt said he was optimistic that 2020 would bring significant US investment to Greece and referred to the privatisation of key ports, starting with Alexandroupolis and Volos, as well as other energy and tourism infrastructure projects, such as the former Hellinikon airport, adding that there will be continued efforts so that the success of ONEX's work in Syros acts constructively for the revitalisation of the Elefsis shipyards as well.
He announced that he would attend the event at the Hellenic American Chamber in Thessaloniki in the coming days, where he said he would discuss opportunities and the role of northern Greece as an energy hub and gateway to the Balkans.
Pyatt said the US is committed to leveraging the positive investment announcements by Pfizer, Cisco and Deloitte and to the further expansion of the US corporate presence in northern Greece.
He also said he felt proud when in Washington, US Vice President Mike Pence and US Secretary of State Mike Pompeo "recognised the Greek government's accelerated, forward-looking reform agenda".