Inside a climate-controlled house at the Australian National University in Canberra there are several purpose-built koala pens.
The scientists working there call it a "5-star Koala Hotel," as the cuddly marsupials do not have to forage for their favourite food - eucalyptus leaves - or water and are offered warm blankets to sleep on.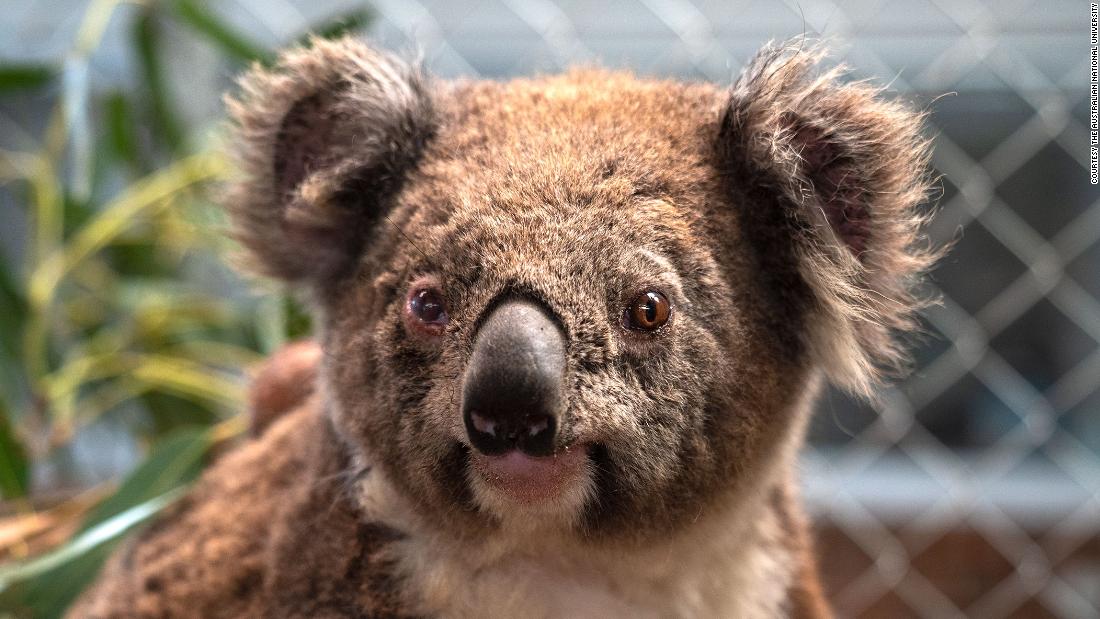 The nutritional research unit has been turned into a refuge for more than 20 koalas that were injured or survived the devastating bush fires burning since September.
One of them is Ash, a shy koala around 2 or 3 years old. She has singed fur and is injured in the right eye, which is covered in an ointment.
Next to Ash is Ian, named after one of the pilots who died in a water tanker plane crash trying to save the bushland where he was found.
"He is distressed. He has been distressed since we found him," Anna Bertuleit, a German volunteer wildlife carer, says. "He is also dehydrated and thin."
Eight koalas arrived at the "hotel" on Thursday from Tidbinbilla Nature Reserve, which is next to Canberra and is currently under threat due to the out-of-control Orroral Valley fire, while a dozen koalas are from Two Thumbs Wildlife Sanctuary and nearby areas at Peak View, a well-known koala habitat, some 100 kilometres from Canberra. The "Good Good Fire" destroyed the whole region last week.
The firefighters were battling to save the sanctuary when a Hercules C-130 water tanker plane crashed after dropping a load of fire retardant, instantly killing its three US crewmembers last week.
Sanctuary's owner James Fitzgerald told dpa he was too upset to speak about the devastation, including the loss of lives.
He had rescued animals but then moved them back to the sanctuary a few days prior after the fire warning was downgraded. But the fast-moving blaze re-ignited and destroyed two houses and numerous enclosures, killing thousands of animals living on his 800-hectare property. One of them was a koala called Greta, which Fitzgerald had named after the Swedish teen climate activist Greta Thunberg.
"A lot of koalas probably died because it's a known koala habitat and the trees are scorched all the way to the top with a very hot fire," says Karen Marsh, 41, an ecologist and resident koala expert at the university.
She said the koalas in that region had been doing "really well."
"Koalas have been declining in numbers in most areas, but this was one of the very few populations that was increasing. It's absolutely devastating," she told dpa.
The koalas were found mostly by the members of the public. They were found sitting on the road and on burnt-out trees. Some were found by "black walks" search crews in the blaze aftermath.
"The hardest thing to see is the animals lying dead," said Bertuleit, a 32-year-old German customs office worker, who arrived in Australia to volunteer two weeks earlier.
"You do the black walks and everything around you is burned and you think no one survives this. And then, you see an injured koala."
"They are hard to spot. You can miss them so easily because they are on top of the trees and they hide," Bertuleit told dpa.
Alison, a mama koala, was reunited with her joey at the "hotel," after they were separated during a rescue operation, Marsh said.
All of the koalas at the hotel are "extremely thin and severely dehydrated," she said. They also have singed fur due to fire heat.
A few have second-degree burn injuries on their limbs and one had a respiratory issue due to smoke inhalation. They all receive food, daily care and medication. Marsh brings fresh eucalyptus leaves every morning from her own property, which is in the bushland.
Since September, more than 12 million hectares of land has already burned in east and south Australia due to bush fires. It includes vast areas of koala habitats in six states and territories, including places where the animal is listed as "vulnerable."
Federal environment minister Sussan Ley has said koalas have taken an "extraordinary hit" and may have to be designated as "endangered" in parts of the country.
"At this point, we actually don't know enough about the impact of these bush fires," Marsh said, largely because the bush fires have been so severe and still ongoing.
"We don't know what the ongoing impact is going to be, particularly because it's been combined with a prolonged drought."
It also depends on "how quickly are the trees going to grow back and whether the forest type is going to change because of mass mortality of trees and what that means in terms of how many animals the forest can support and how quickly it can do so," Marsh said.
Both Bertuleit and Marsh said they remain hopeful for koalas because they are still found, even in burned areas and sometimes uninjured.
"We just have to monitor that these animals continue to do OK and not just move on. Like, sitting in a tree, we can't tell the koalas are skinny and not coping," Marsh said.
It is not clear how long the koalas will stay in the Canberra hotel, but at least until they are healthy.
"They will hopefully go back to where they came from, as long as we know their habitat is recovered enough to support them," Marsh said.