The travel restrictions imposed globally to manage the coronavirus pandemic have a visible positive repercussion in marine life, with a reduction in pollution and a revival of sea populations.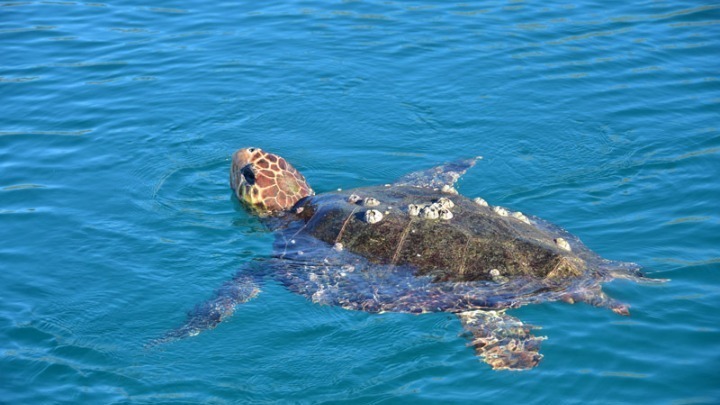 Sea turtles are one of the species that have benefitted from this, project officer for MEDASSET Eleana Touloupaki told Athens-Macedonian News Agency (ANA-MPA). "Nature has quieted down," the staff member of the international organization for Mediterranean marine protection says. "In Greece, we recently saw the return of dolphins in the Thermaikos Gulf (Thessaloniki), the canal waters in Venice clearing up and fish returning," she notes. "In India, a great number of threatened sea turtles are laying eggs for hours at a time, even during the day," she adds.
Turtles like the Hawksbill, in Brazil, "are even building a greater number of nests," helping an endangered species return from the brink of extinction, she underlines.
In Greece, Touloupaki says, the turtles lay eggs from May to August. "Now is a time that turtles are mating, so any reduction in human interventions and threats obviously helps, as it does for any wild species," she adds.
University of Thessaloniki biology associate professor Thanassis Tsikliras concurs: "The reduction of pollution on a global level is impressive. In Greece we have notable improvements, observed in all ecosystems."
He notes that pollutant measurements, done in real time, "show that chemical pollutants and garbage were significantly reduced within a month," and adds that "Greece will benefit in multiple ways from this." As examples he cites the "great reduction in pressure on fishing reserves across all fishing activities, whether by profesionals or amateurs." Although fishing has not stopped entirely, the combination of reduced fishing, a ban on swimming and a ban on amateur fishing "all end up in zero fishing pressure on the coastal front as well."
In the next two or three years, he believes, the biomass of fish in the seas will rise steeply because of the absence of the fishing pressure, and the size of the fish will be greater. "Fish born today - except for anchovies and sardines, which are fished when they're a year old - will be fished two or three years from now," Tsikliras explains. This will also benefit professional fishermen too, he tells ANA-MPA.
University of Thrace professor Giorgos Syleos notes that "urban and agricultural pollution continue to pressure the marine environment," but a possible reduction of tourism during the summer months will be reflected in the sea as well." He cites the example of Venice, without the tourists.
The real effects of reduced travel on the marine environment will need to be examined further through scientific studies, all three scientists say.